Japan resident Patrick Hochner offers a little insight for photographers visiting Kyoto for the first time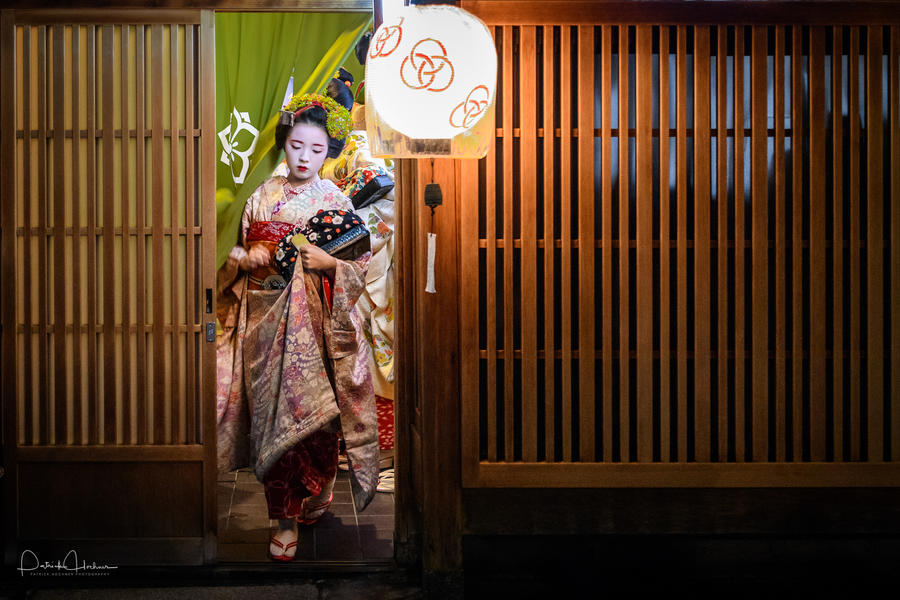 'Maiko Fukutana leaving her Okiya on her way to work', Nikon D850, 24-70mm, 1/80sec at f/2.8, ISO 6400
1. Understand the society
I didn't speak any Japanese when I first arrived in Tokyo at the end of the seventies, and for the first time in my life, I understood what being totally illiterate meant. Believe me, it's a strange feeling. But as the people of Kyoto are so nice and welcoming, this has never been a real problem. However, I now speak fluent Japanese and, as a long-term resident of the country, it's been a long time since I was considered and treated as a foreigner
The Japanese society is very structured and rigid. Every Japanese has his and her place, and must accept it. Luckily, this social system doesn't really apply to foreigners. We are welcome, as long as we respect and accept the way the society works.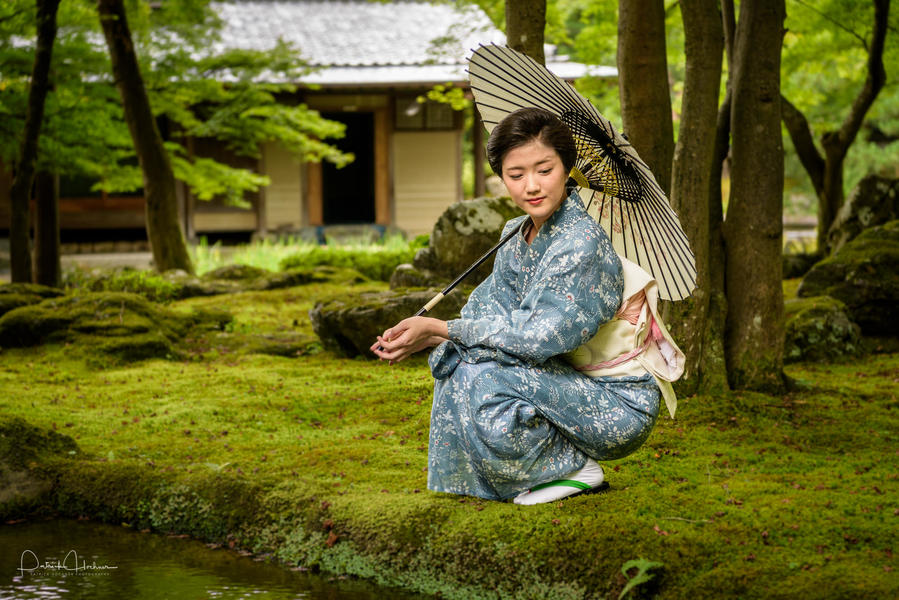 'Katsuna's portrait', Nikon D810, 24-70mm, 1/80sec at f/4, ISO 250

2. Don't fear the language barrier
Over the years, living in Japan has for me mostly been easy and smooth, due to the kindness of the people. They are polite and respectful of others, always ready to help a foreigner. The country has changed a lot since these days and has opened itself to the foreign world. It is now much easier to approach, and the language barrier has been greatly alleviated as more and more Japanese people do speak English now.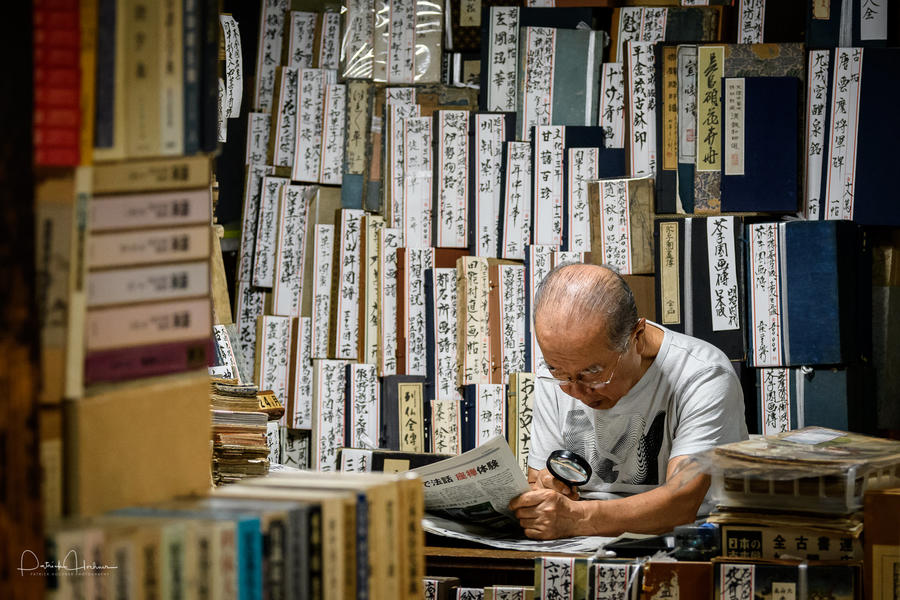 'The Old Man and the Old Books', Nikon D500, 70-200mm, 1/400sec at f/2.8, ISO 2200

3. Embrace the history
While Kyoto is a modern city, it has also managed to maintain its history. It was, after all, the capital of Japan for over 1,000 years. It very much has its own culture, and there are numerous preserved areas around the city.
In these places, away from the neon lights and noisy shopping malls, along the cobbled streets and the old traditional wooden houses or within the grounds of thousand-year-old temples, the atmosphere is that of another era, of another world, where the locals continue to live their life the way their ancestors did. Needless to say, it is a paradise for photographers.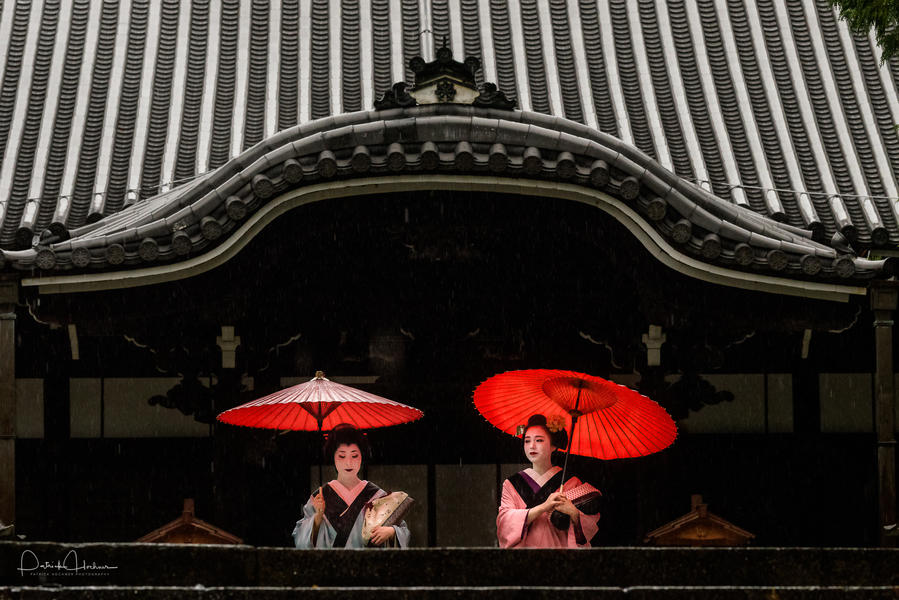 'Leaving the temple', Nikon D810, 70-200mm, 1/250sec at f/7.1, ISO 800
4. Research the places you'd like to visit
Kyoto is home to seventeen UNESCO world heritage sites, including Kinkaku-ji (a Zen Buddhist temple), Daigoji-ji (a Shingon temple) and Nijō Castle. This is probably a world record of concentration. My own favourite places are the temples and the gardens, but I also enjoy the various events and being around the geisha districts.
On top of this, Kyoto is a city that lives at the rhythm of the seasons and the various spots are different during the cherry blossoms and the autumn foliage seasons. And let's not forget an incredible number of world-class restaurants.
You'll also find such things as:
• A great Manga museum (a two-minute walk from the Karasuma-Oike Subway Station).
• The Toei Kyoto Studio Park, where you can watch period dramas being filmed.
• Monkey Park Iwatayama, where you can feed and interact with around 120 snow monkeys.
• Ukai, a traditional fishing method which uses trained cormorant birds to catch river fish, such as sweetfish.
• The Kyoto Botanical Gardens, located on the east bank of the Kamo-gawa River, midway between Kitaoji-dori Street and Kitayama-dori Street.
• Tea ceremonies, which you can find at Camellia (located right off of Ninen-zaka), En (on Higashioji-dori Street) and Tea Ceremony KOTO, which is Very close to Kinkaku-ji Temple, and is itself worth a visit.
• Geishas, which we'll get on to.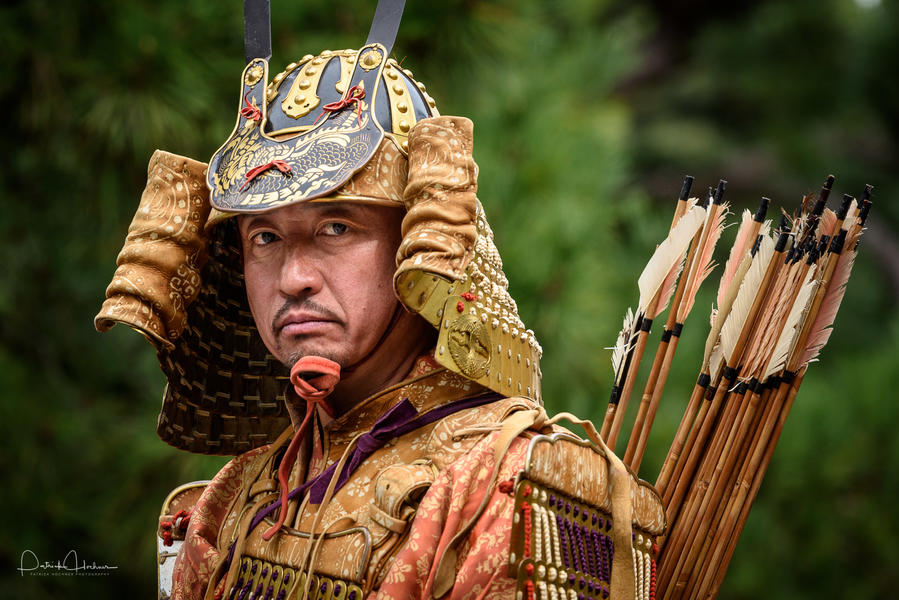 'Samurai', Nikon D810, 70-200mm, 1/200sec at f/5.6, ISO 180
5. Plan your visit to coincide with events
There are several festivals every year in Kyoto, with thousands of figurants and participants dressed in authentic historical costumes. Every temple and shrine features religious events and ceremonies. There are also numerous local happenings or events. Gardens and streets are illuminated by night during special periods — all these are incredible photographic opportunities.
Every year you can see such events as:
• January – Ohmato Taikai, a Kyudo competition where its competitors are all 20 years of age.
• May – Mifune Matsuri, a reenactment of a Heian-period Imperial boating party.
• April – Miyako Odori, the dancing event of the Gion Kobu Geisha District.
• August – Daimonji, an obon fire festival.
• October – Kurama, another fire festival, which features acts of strength and bravery by the town's youth and is seen as a rite of passage.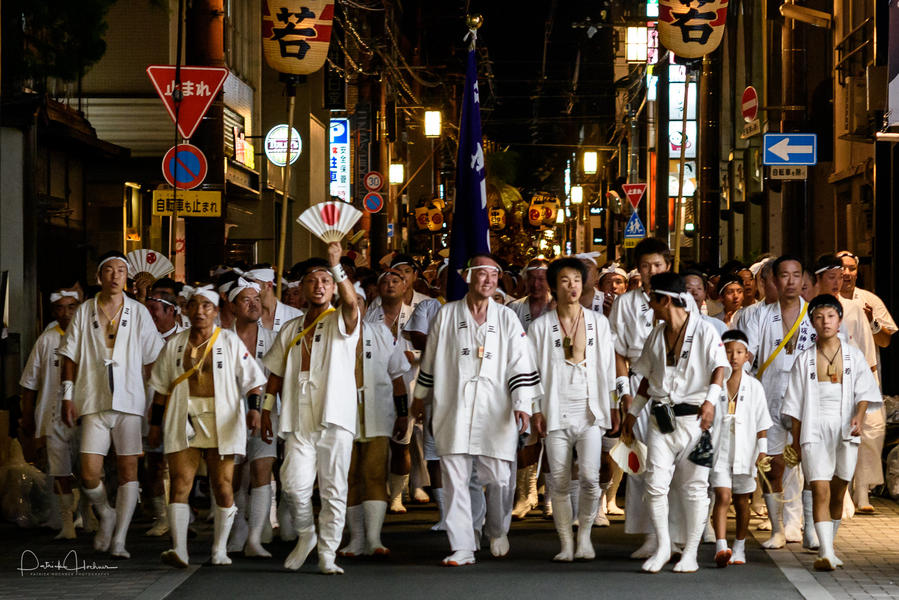 'In the Street', Nikon D810, 85mm, 1/60sec at f/4, ISO 1600

6. Photograph geishas
I'm fascinated by the world of the Geiko (the name for geishas in Kyoto). Together with the young apprentices, the Maiko, they are the symbol of elegance, beauty and womanhood. The best time to see them is usually the late afternoon when they go to work, or later in the evening when they return home from their work.
There are a number of ways to take photos of geishas. You can find them at organised private or public photo shoots, public appearances during various events, tea ceremonies, dances, or just in the street, as they walk around on their way to meet their patrons.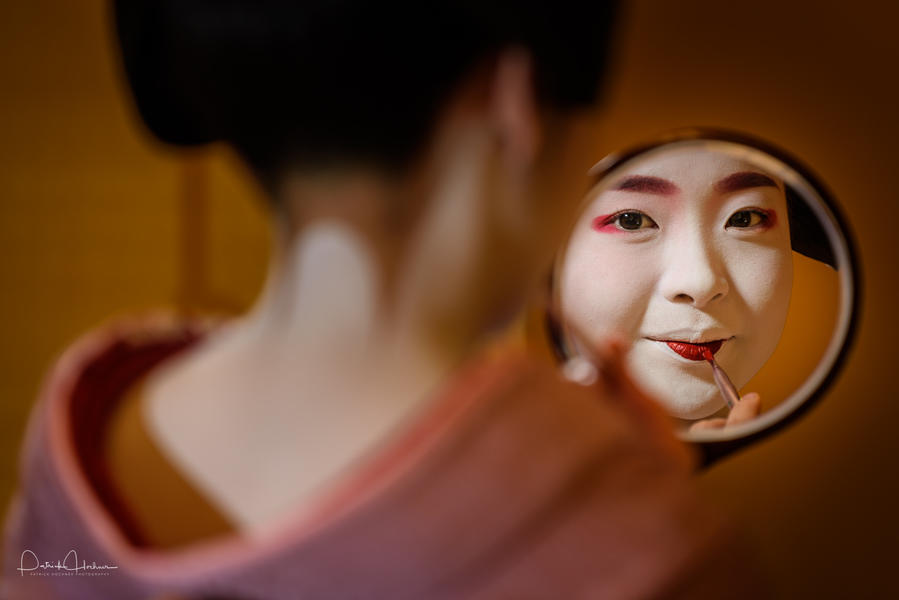 'Making Up', Nikon D810, 70-200mm, 1/60sec at f/2.8, ISO 64

7. Be respectful of geishas
If you want to photograph geishas, there is a general etiquette to follow and a number of rules. Do not hamper their passage. Never, ever, use a flash when taking their photo in the street. Be as discreet as possible. Do not run after or around them to catch a snapshot. Do not stop them asking for a selfie together. The least you bother or disrupt them, the better.
Never forget that geishas are not objects meant for the curiosity or pleasure of the tourists. They are people on their way to work and as such, entitled to a minimum of respect.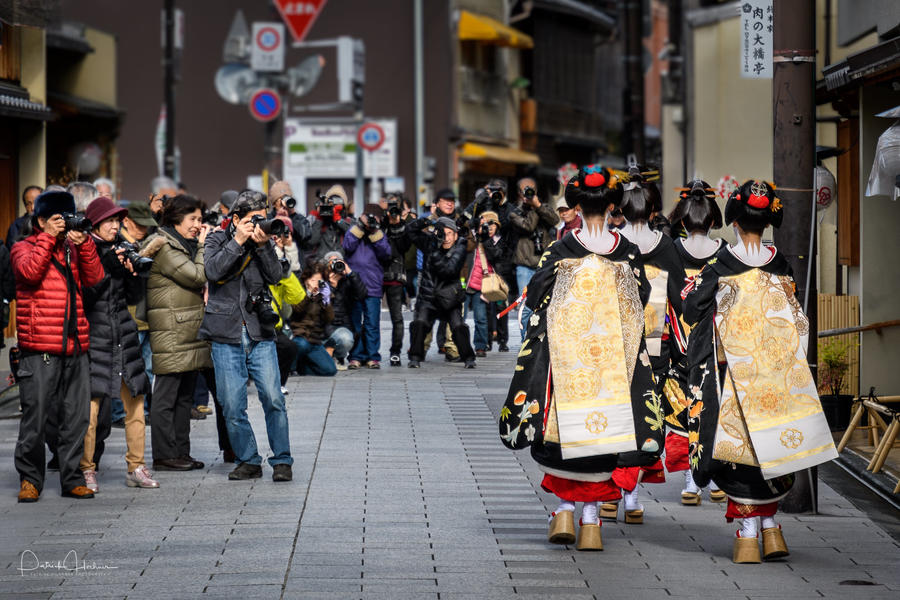 'Surrounded! Targetted!', Nikon D500, 16-80mm, 1/400sec at f/4, ISO 100
8. As with all travel and street photography, be patient
As all photographers should know, patience is a virtue. My favourite image is a photo of Maiko Fumiyoshi, titled 'Walking Through the Night'. It's one of the first photos I took of a Maiko after arriving in Kyoto. It was taken during the winter at night and in the biting cold. I knew more or less from where a Maiko or Geiko would eventually come from and where she'd be walking by.
The only light available was from the small lanterns each of the teahouses lining up the street has next to its door. I positioned myself near one of these light sources, waiting, after setting my camera appropriately and the lens to the hyperfocal distance (I couldn't use the autofocus due to the lack of light). And then I waited. And waited some more. I got lucky that day as there was no-one else around when Maiko Fumiyoshi walked by.
This image, incidentally, a great example of how today's technology allows us to take excellent photos in the dark by simply boosting up the ISO. And it shows, that if you wait around long enough, you'll get your shot.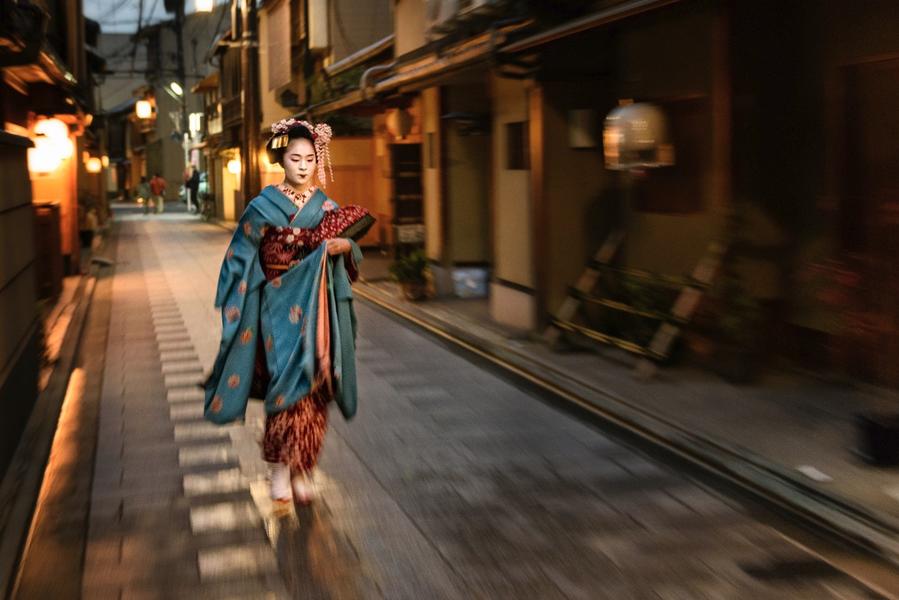 'Walking Through the Night', Nikon D810, 24-70mm, 1/25sec at f/2.8, ISO 1600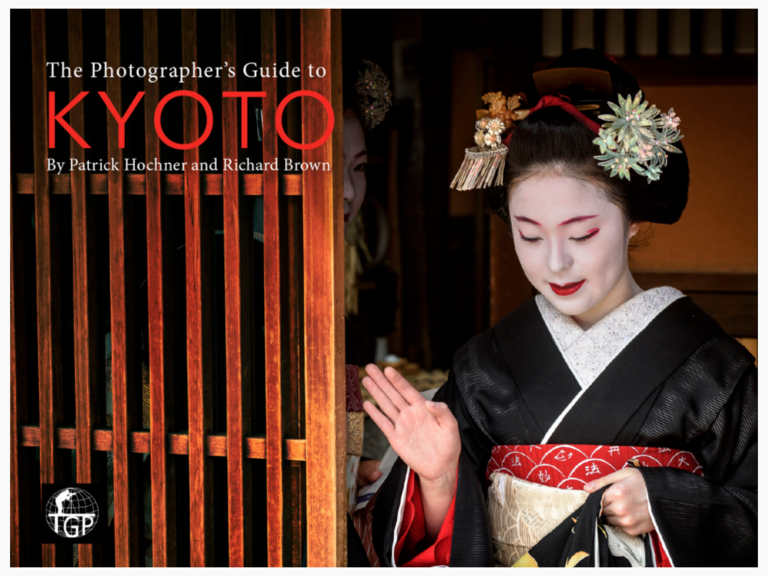 Patrick Hochner (Patosan)
To see more of Patrick Hochner's work visit www.mykyotophoto.com. Patrick co-authored the book 'The Photographer's Guide to Kyoto', which is available from www.travelguidesforphotographers.com/kyoto-abc. For a 30% discount, enter the code PHTGPB.
For more travel photography ideas, visit Patrick Hochner's Photocrowd page.