If you're looking to enhance your street photography, three photographers relate the stories behind their captivating street portraits of street vendors
'The Bazar' by Marco Tagliarino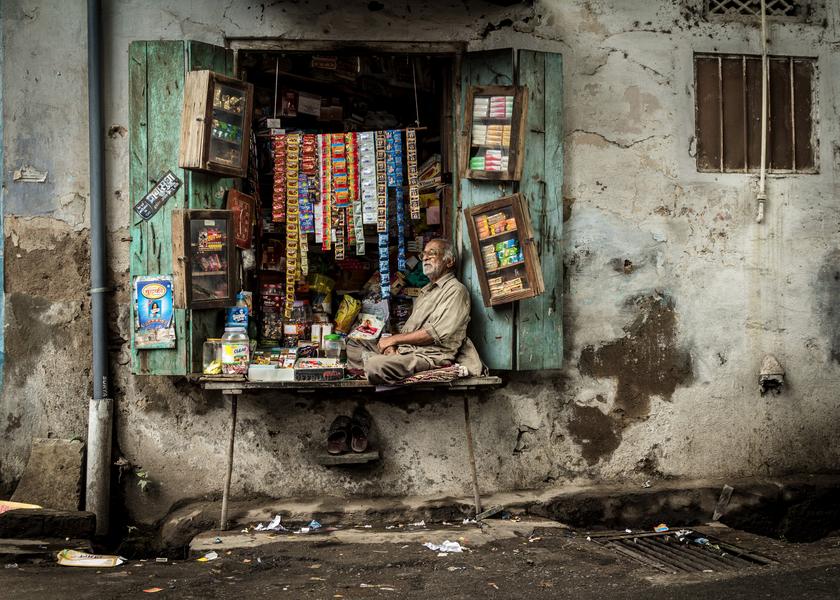 Canon EOS 60D, 24-105mm, 1/25sec at f/6.3, ISO 100
I happened upon this street shot, which I named 'The Bazar', while I was travelling through the city of Udaipur. This took place during an unforgettable tour of Rajasthan in India. When I'm in India, I'm especially fond of hiking through the narrow and busy streets that are so prevalent throughout the country, and I spend the majority of this time looking for interesting street life compositions.
During one of these excursions I found this scene and, as you can appreciate, it was one I couldn't resist photographing. I like the fact that the shop only uses about a quarter of the frame and it's surrounded by the irresistible textures of the stained wall and pavement littered by paper, packages and cigarette butts. The vendor placed against the right-hand edge of the frame within the frame is such a lovely element. For me, the composition is completed by the drain pipe, the slim sticks holding up the shop, the shoes on the dedicated shelf below the store, and the vivid colours of the various products that surround the vendor.
In this case, I shot the scene using a Canon EOS 60D with a Canon EF 24-105mm f4 L IS USM lens. It's not exactly what you'd call a professional kit, but it certainly did the job in this case.
Marco Tagliarino's Photocrowd page
'Shafts and Shadows' by Harry Oliver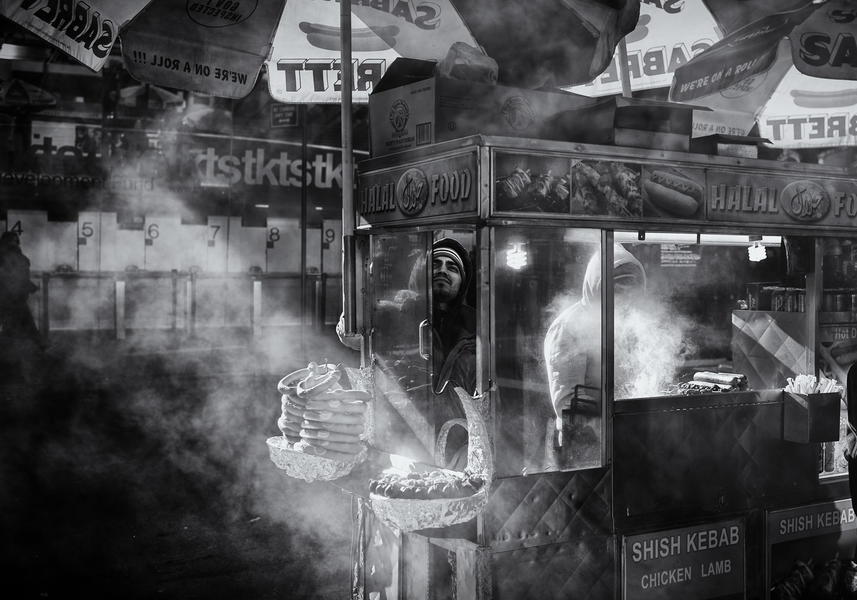 Nikon D3S, 35mm, 1/1600sec at f/3.2, ISO 400
This image was a lucky, rather than a planned, shot. I came across it on a very crisp (i.e. freezing) Thanksgiving Day in New York, at about 4 pm. I was in NYC for my honeymoon, so taking large amounts of time for meticulously scoping out subjects was not something that would have gone down well. Happily, we did a lot of walking around the city (from bar to restaurant to department store) where we were able to take in Manhattan, and absorb the feel of the streets and characters that inhabited them. There were opportunities for images everywhere so I always had my camera with me.
This was just off Times Square, about an hour after the famous Thanksgiving Parade. I shoot predominantly street photography and had my then favourite (if heavy) kit combination with me: the Nikon D3S and the magnificent, superfast 35mm f1.4G (I have now had enough of the weight and unnecessary features of the set-up and now use a Leica Q or M10).
This picture was grabbed in a very crowded area, and the constant stream of passers-by made it hard to get a clean frame of the seller, with the light just right. But I was lucky from two sets of 6-frame bursts to get this and one other shot that really worked.
The image was shot in raw with exposure settings of 1/1600sec at f/3.2 and an ISO of 400. I then converted to black & white using Nik SilverEfex. A little tweak of contrast and black depths and a subtle vignette were all that was needed. In the end, the smoke, sunlight and rich monochrome tones came together just right. As the sun was low and harsh, it cut through the smoke from the hot dog charcoal perfectly.
It is just this sort of combination of eye, intuition, speed, reactions and (mostly) luck that makes the street the most exciting place to shoot.
Harry Oliver's Photocrowd page
'Mister Hartill' by Dave Urwin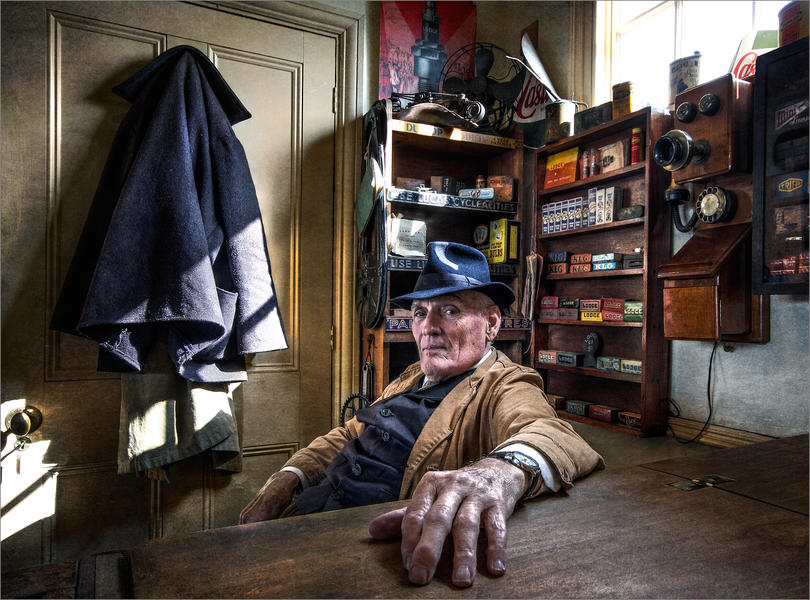 Canon EOS 60D, 10-20mm, 1/6sec at f/11, ISO 400
This picture was taken at the Black Country Living Museum near Birmingham, UK. It's a great place to visit as they have lots of people dressed in authentic vintage costumes for character shots, plus a large number of period buildings for architectural and environmental exterior shots and period room interiors.
The guy in the picture is a museum employee playing the part of Mister Hartill, owner and proprietor of A.Hartill's Motorcycle Sales and Repair shop, which is recreated as it was in the late 1930s. I particularly like his relaxed attitude and the way that his arm is resting on the counter top. This gives a strong perspective and leads the eye into the image.
The kit I used was a tripod-mounted Canon EOS 60D with a Sigma 10-20mm lens at 14mm. The ISO was set to 400 and I took three bracketed exposures (-2, 0 and +2EV) based on the metered exposure of 1/6sec at f/11. The separate exposures were merged to HDR in Photomatix Pro and the HDR composite image was further worked in Photoshop to enhance local contrast with masked curves adjustment layers. To finish this image, I added a texture overlay to give a little more character to the bare walls and door, and also to provide a subtle vignette, further concentrating attention on the central character.
Dave Urwin's Photocrowd page