Three wildlife photographers explain the story and techniques behind their evocative fox pictures
Lazy Fox by James Calvert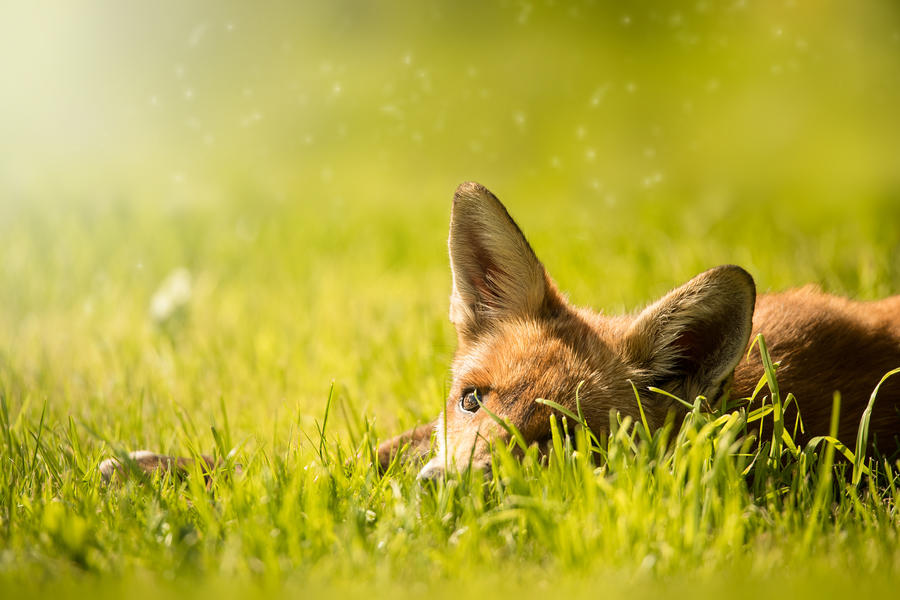 Canon EOS 1D X Mark II, 150-600mm, 1/1600sec at f/6.3, ISO 800
This picture of a young fox was in no way planned and happened just as a matter of chance. I hadn't visited this location with the intention of photographing foxes; in fact, I was there to capture a Blue Tit visiting a bird box.
As soon as I arrived at the location, I opened up the box to my new Sigma 150-600mm f/5-6.3 DG HSM lens and attached it to my recently-purchased Canon EOS-1DX Mark II. I placed the camera on a tripod, stood very patiently - with one hand on the trigger and my eye on the viewfinder - and settled in to wait it out until a Blue Tit appeared. Yet for all my patience, not a single Blue Tit appeared.
After about 30 minutes, I stood up straight for a stretch. It was only then that I saw the source of the problem: a young fox had decided to take a snooze between me and the birdhouse. This simple and unobserved fact explained the lack of Blue Tits, but provided an opportunity for a different image.age.
I slowly and quietly turned my attention to the fox and succeeded in catching him unaware with this one and only shot. As soon as the fox heard the sound of the shutter – it's quite loud on the 1DX – it stood up, looked at me and bolted. The shutter speed was set at 1/1600sec, with an aperture of f/6.3 (the lowest for the lens at that focal length) and an ISO of 800, which was set in anticipation of the Blue Tits.
Ideally, I would have liked to have been able to shoot it at f/2.8, so I used the Tilt-Shift setting in Photoshop to shorten the depth of field and ensure the focal point of the picture is on the fox with just a few inches of grass in focus.
This picture really was about seizing an opportunity and being in the right place at the right time. Looking at the image now I particularly like the dandelion seeds blowing behind the subject. It's this small element that gives the picture that sparkle in the background.
James Calvert's Photocrowd page
Red Fox Study #11 by Edward Kopeschny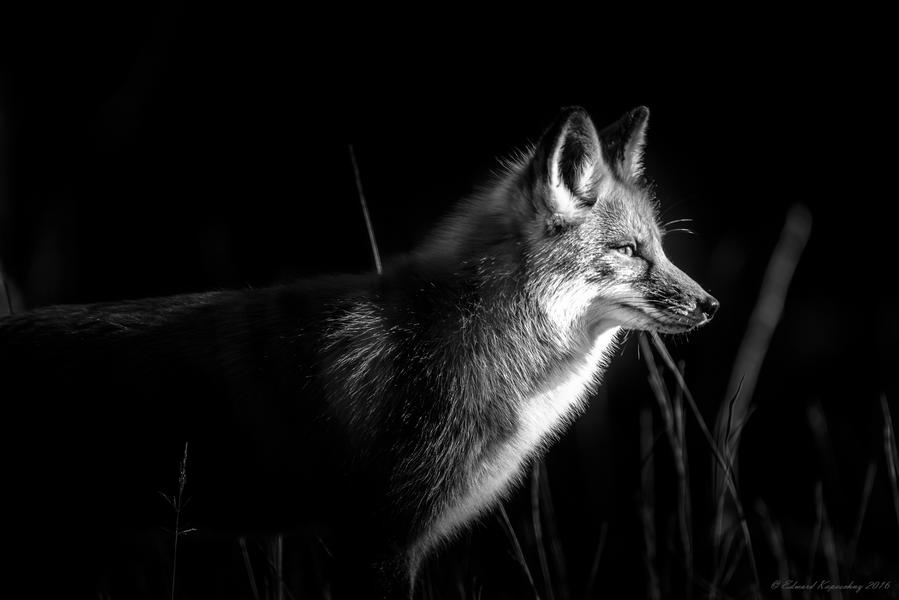 Nikon D800E, 200-500mm, 1/250sec at f/5.6, ISO 320, initial conversion to monochrome with Silver Efex Pro 2 and final editing in Capture 1
As you can imagine, living in Canada affords plenty of opportunity for wildlife photography. Having kept a close eye on one established fox den for a few years, I was aware that a pair of red foxes had successfully reared two kits that particular spring. After discovering the birth of these two, I had made a conscious effort to keep my distance and stay away from the area of the den to allow them to raise their young undisturbed.
This particular photo was taken late in the autumn of the same year. I was quite happy on my return to discover that all the foxes were doing well - the kits had survived and grown up healthy. They were now almost full grown and spent most of their day playing and chasing each other. It was very late in the day when I visited and the sun was just about to drop below the horizon.
I was photographing a fox farther down the field, as the sun was disappearing, and I dropped down to the ground to use my knees for support because of the lack of light. The fox was now backlit and made for a rather difficult photo. To my surprise, the second young fox, which I had lost track of earlier, appeared to my left with its face beautifully illuminated by the setting sun and surrounded by deep shadows.
I immediately knew while looking through the viewfinder that this was an opportunity for a good photograph. There was only time for the single frame before the fox was off again to wrestle and play another game of tag.
The photo did not disappoint and looked quite good with very little manipulation in post-production. Having grown up with black & white film, I had developed an early appreciation for the simple complexity of monochrome. Though black & white is traditionally reserved for landscape, architecture and the human form, I believe converting this image to monochrome works well with the texture and was exactly what was needed to realise its potential.
Edward Kopeschny's Photocrowd page
Foxes in Love by Michal Dobes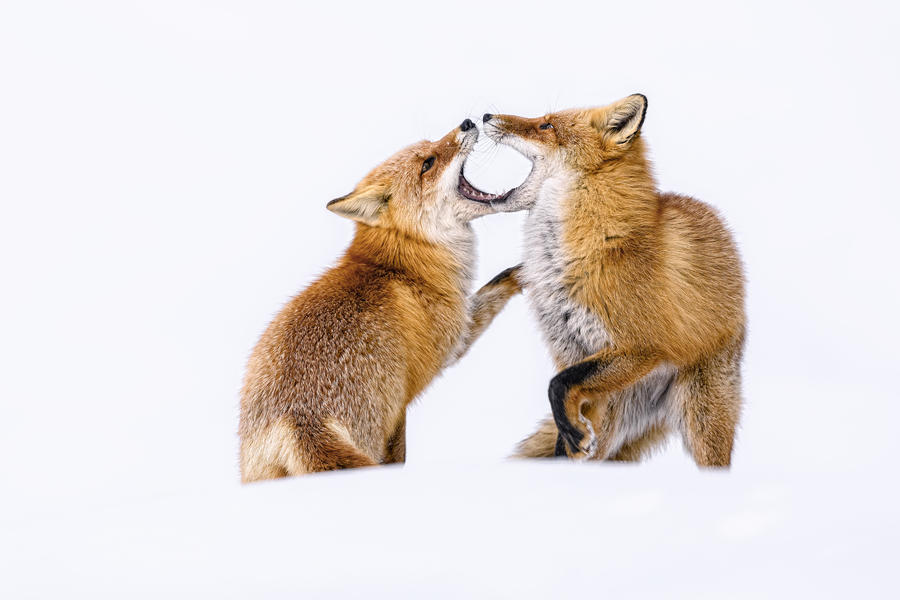 Canon EOS 5D Mark III, 300mm, 1/1000sec at f/7.1, ISO 320
This image of a pair of wild foxes was taken during a trip to Japan in February 2017. During our trip, my friends and I had spent eight days on Hokkaido, the second largest island of Japan at the northernmost part of the country. The fox is a popular character in this part of Japan and is known affectionately as the 'Happy Little North Fox', meaning that many tourists arrive at the area hoping to catch a glimpse of these wild creatures.
However, our mission upon arriving at Hokkaido was not to photograph foxes; in fact, we were there to encounter the copious and diverse bird life that lives in the area. Our primary interest lay with species such as Steller's sea eagles, white-tailed eagles, red-crowned cranes, whooper swans, and anything else we might encounter along the way. If anything, foxes were our plan B.
As is often the case with foxes, this pair appeared when we least expected it. We met this duo next to a road that led to Nemuro, which lies to the east of Hokkaido. The pair weren't at all shy and were perfectly happy to tolerate us so long as we stayed at a suitable distance. That meant we could walk and run alongside them as they played along the shore of a frozen lake, and that's where I took this frame using a 300mm f/2.8 lens. The lens meant that I could stay far enough away to allow them to stay comfortable with our presence yet still achieve close and intimate shots.
This is one of many shots that I took of the pair. You can see the rest in my portfolio on my website.
Michal Dobes' Photocrowd page